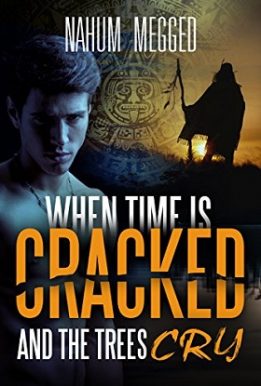 When Time is Cracked and Trees Cry
Be part of a fascinating flight into the Amazon jungles!
This is a book about love, memory, yearning, and shared human destiny. An Israeli anthropologist flees his country and the bitter memories that haunt him, finding refuge in the Amazon jungles. The protagonist's death wish opens hidden paths before him, and these lead him into the heart of the forest.
Encounter the mysteries of the enchanted, magical forest along with our hero
Xnen, the tribal leader, and Yakura, the embodiment of the forest goddess, draw him into the life of the tribe as he gradually becomes trapped in their magical world. Behind each tree, beyond every pathway that disappears into the forest, inside each sacred cave, and at the end of each night, there are mysteries he must solve, traces of magnificent lost civilizations swallowed by the forest, riddles, and prophecies.
Will he be able to unravel the mysteries of the forest and of his own existence?
When he tries to escape from this maze of secrets, he discovers he has a crucial role to play in the war between the children of the forest and the hostile, seemingly rational civilization surrounding it. He knows that only by fully dedicating himself to the conflict will he be able to solve the mysteries of the forest as well as the mystery of his own life.