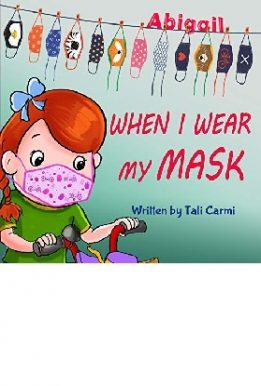 Author: Tali Carmi
Language: English
Category: ילדים ונוער
When I Wear My Mask
Little Abigail helps children understand why it is so important to wear a mask, and shows them that wearing a mask shouldn't have to stop anyone from being themselves…
Just like countless children around the world, little Abigail misses her Grandma and Grandpa. She hasn't seen them for a long time because of social distancing, but she is willing to wait as long as it takes to keep them safe.
Finally, her mom tells her the happy news: she can visit Grandma and Grandpa at last! But on one condition – she has to cover her face with a mask.
Abigail has many masks and when she wears them, she can imagine herself to be anything she wants.
In these unusual and uncertain times, children face many unfamiliar challenges. It is the parents' job to give them as much support as possible.
When I Wear My Mask is a fun and simple book designed to explain this new situation to children in a non-threatening way, and show them that life under social distancing is not as scary as they might think. Children will feel more comfortable wearing their masks once they understand the importance of protecting their Grandparents, and the rest of the elderly population who are at greater risk than others.