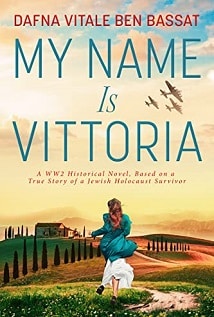 My Name Is Vittoria
Her choice will seal their fate.
Vittoria's life as a noble Jewish woman living in Northern Italy is nothing short of idyllic… until the Nazis invade her quiet town, and Vittoria's entire family is forced to flee across the border to Switzerland, where the promise of freedom awaits.
Vittoria knows that the dangerous journey with her three little children will be wrought with peril, but nothing could prepare her for the most devastating choice a mother will ever have to make. At a crossroads, she will have to decide – put her entire family at risk… or leave one of her children behind.
Time is short and every minute brings them closer to discovery. The fate of her family lies on her shoulders, and a sacrifice must be made.
This is the story of one unforgettable woman's brave actions under impossible conditions, and that of the entire Jewish Italian community under the Nazi reign of terror.
Based on thorough research, interviews, and original historical manuscripts, this is a tale of loss and despair, of survival and human triumph. This book will stay with you long after you put it down.
"My Name is Vittoria" is the first book in the "World War II Brave Women" series