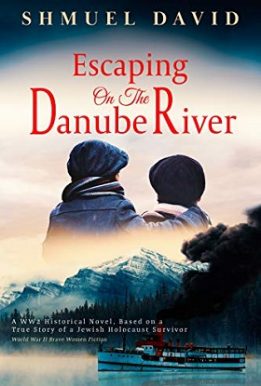 Author: Shmuel David
Language: English
Category: ביוגרפיה, יהדות, שואה
Escaping on the Danube River
Imagine having to flee for your life from the Nazis on a rundown river-boat!
Hanne is the teenaged son of a well-off Jewish family living a comfortable, sheltered life in Yugoslavia. In the face of persecution against Jews, Hanne and his parents joins a harrowing voyage down the Danube River, eventually meant to reach pre-State Israel. The passengers aboard the three creaking river-boats are constantly torn between hope and despair in their attempt to reach safety.
A dying father implores his son to uncover the truth about his past
On his death-bed, Hanne implores his son, Alan, to find out what became of his first love, Inge, whom he was forced to leave under tragic circumstances during the river journey. Alan becomes inexorably drawn to delving into the past. He pores over his father's journals as well as other survivor diaries and letters, together with recorded interviews with Erica, the one survivor left in NYC, and learns the bitter truth contained in Inge's death camp diary.
A devoted son discover a little-know story that must be shared
Bit by bit, Alan uncovers the horrendous story of the young lovers' harrowing voyage down the Danube River along with Hundreds of other jews attempting to flee the Nazis for Israel in a historic fiasco that came to be called the Kladovo-Sabac Affair. While focusing on a touching love story, this historical novel also tells the ill-fated, real-life stories of other people who shaped the journey.

-->