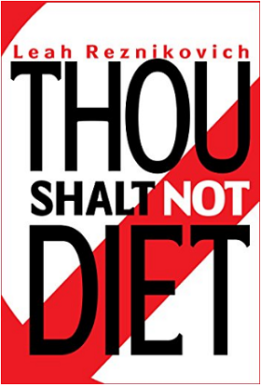 Thou Shalt Not Diet
Thou Shalt Not Diet discusses health promotion and important behavioral changes that can strongly influence our lives. These changes, which include exercise, nutrition, smoking cessation and more, have the ability to significantly impact the overall health of each and every one of us. The book provides simple, understandable, and scientifically backed explanations and descriptions about how we can and why we should make such alterations.
Every topic discussed in this book offers surprises that may astonish you and challenge beliefs that you have held for years.
Here are a few examples:
Dieting actually makes you gain weight.
Walking fast is more beneficial for weight loss than running.
Artificial sweeteners make you gain weight.
Artificial sweeteners are especially dangerous for those suffering from diabetes.
These and many more surprises await you throughout the book.

Leah Reznikovich is a health promoter and a certified nurse who has offered private instruction for both healthy and sick individuals for the past 20 years. Her main areas of expertise include: rehabilitation of heart patients, Type II diabetes, and all risk factors associated with cardiovascular diseases.

In addition to her work in the area of conventional medicine, Leah has studied several types of Holistic medicine. The mind-body connection is intertwined in her work with clients, as well as through outher book Thou Shalt Not Diet. Leah presents a model that she believes should be employed by every professional working in the various medical fields – offering treatment which includes a combination of both conventional and holistic medicine.

Leah is married, a mother of five, and resides in Israel.

-->