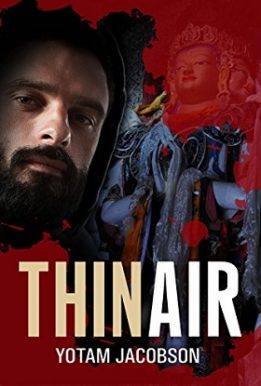 Author: Yotam Jacobson
Language: ENGLISH
Category: ביוגרפיה, יהדות, שואה
Thin Air
Traumatized by war, Roi finds solace and a new world view on the Tibetan Plateau
Roi's traumas as an IDF soldier send him to India to restore his soul. He finds spiritual solace in the Tibetan refugee community of Dharamsala. Tibetan Buddhism leads Roi to renounce militarism and embrace cosmic compassion. He even finds local love.
War again rears its ugly head in this riveting story
But war is never far away. Just when he's tapped into a wellspring of Buddhist thought, the Tibetan underground recruits Roi. To his surprise – and contrary to his newly adopted pacifism – it advocates violent struggle against the Chinese occupation. A large arsenal is amassed, and Roi finds himself in a pivotal role. With his life in danger, will Roi forsake his new religious ways and return to a path of violence?
Life or death choices in exotic Tibet
This suspenseful novel sweeps across the Tibetan Plateau: its landscapes, beliefs, and history. It reveals the complex relationship between east and west and even a surprising solution to the China-Tibet crisis. Answers to Roi's deepest questions must be found anew.