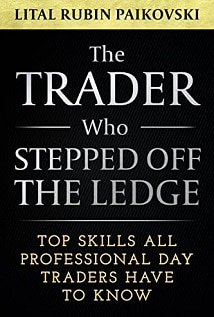 The Trader Who Stepped off the Ledge
A day trader's one-stop, one-of-a-kind guide that will mentor you the golden rules of day trading while living on the edge of the stock market.
The day before his 39th birthday, Avner finds himself on a ledge, about to jump to his death. After losing all his family's fortune in the stock market, he is at his wits' end. But when you hit rock bottom, the only way to go – is up.
Through the engaging, often relatable story of a struggling day trader learning to build himself back up towards success, this book will teach you all you need to know to day trade like a professional:
The fundamentals of professional trading in the stock market

Get ahead of every possible trading scenario: manage risks, devise work plans and trade plans…

Learn to make a positive change in your mindset: hone your focus, discipline, self-control, preparation and more.

The fascinating psychology behind trading

How to best plan your objectives to reach your end goals
Humorous at times and serious at others, this book will be your mentor and guide to deciphering the secrets of professional day trading and conquering the market.