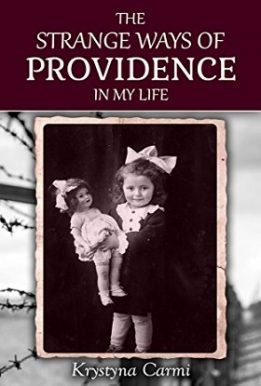 Author: Krystyna Carmi
Language: INGLISH
Category: ביוגרפיה, יהדות, שואה
The Strange Ways of Providence In My Life
Happy childhood, horrors of war and the miraculous rescue of the only child survivor from Obertyn
Krystyna Carmi's childhood in Obertyn was full of happy moments. Her childhood was filled with friends, both Polish and Ukrainian, and she attended a Ukrainian school. Krystyna Carmi was gifted with an extraordinary memory, and in this memoir, she vividly recounts the history of her family and her life before, during and after World War II. But her happy childhood did not last long; World War II changed it forever.
A girl's survival in the face of pure evil: loss and persistence against all odds.
However, the worst was still ahead for the Jewish community in Obertyn and for Krystyna's family. After the Germans ordered the Jews to move into the Kołomyja ghetto, Krystyna's family went to live in the ghetto. People died in the ghetto because of hunger and physical exhaustion; their bodies were collected on a platform placed in the street. These deaths did not escape the attention of the sensitive girl, and she'll be forever haunted by the faces of those who died.
Her parents and her sister did not survive the family's attempt to escape the ghetto, but despite her loss, Krystyna struggled to stay alive; she was hiding in order to save her life, she faced hunger, thirst, fear for her life. Nevertheless, Providence has chosen for her to live, to be.
More than a memoir, The Strange Ways of Providence in my Life, gives the reader a piece of history.
The book contains more than 100 photos, taken by Krystyna's father, a professional photographer, who sent them to his family in Israel before the war. In the book, you will also find amazing photos of the members of the Jewish community, drowned in the Dniester river by Ukrainians few years later.
Doctor Markus Willbach, a friend of Krystyna's family, an adult at that time, depicts an account that emphasizes the authenticity of Krystyna Carmi's memories as a little girl. His account of the events is part of the book.
This powerful memoir will leave you breathless and heartbroken, yet, inspired. A must read!