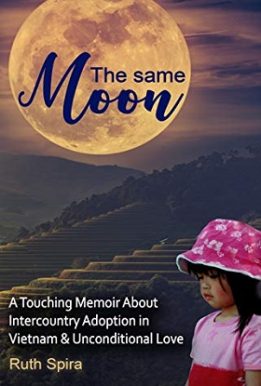 Author: Ruth Spira
Language: English
Category: ביוגרפיה, יהדות, שואה
The Same Moon
A unique and intimate memoir about adoption, prejudice and shared destiny, thousands of miles from home.
For years Ruth Spira never even dreamed of motherhood and children. She was left a young widow when her husband was killed in Israel's Yom Kippur war in 1973, and she chose not to remarry.
At the age of forty something began to stir within—the desire to become a mother made itself increasingly heard with each passing day. Her age and the decision to stop long and draining fertility treatments, eventually lead her to the other side of the world – to Vietnam.
In an honest and moving book, Ruth describes the process she went through—from the moment she decided to adopt, through the difficult months she spent in Vietnam, the immediate connection between her and her new baby, Lien, and the process of acclimation back home, along with other hurdles she encountered.
This extraordinary book raises important and essential questions about parenthood, cross-border and cross-culture adoption, single motherhood, prejudice, racism, the role fate plays in our lives and the inexplicable feeling of love a parent feels for her child.