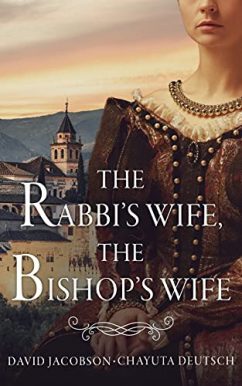 The Rabbi's Wife, The Bishop's Wife
The moving story of Joana Halevi – one brave woman who was willing to give up the most precious things in her life to maintain her faith.
Spain, 1391. Joana, wife of Shlomo Halevi, the Rabbi of Burgos, mother of five, and daughter of a wealthy and respectable family, is living a comfortable, carefree life. Until her world is shattered without warning one summer day.
While her husband Shlomo, now Pablo de Santamaria, joins the Catholic church and takes their family with him, Joana struggles with the unrelenting yearning for her children. Will her soul find relief? Will her children return to her side?
Jerusalem, 2020. Ruth is struggling with personal conflicts when the Covid-19 pandemic shakes her world, adding loneliness and isolation to her struggle. With her new online friend, she embarks on a voyage that will set Joana Halevi's memory free from oblivion.
Based on the true story of Joana Halevi, The Rabbi's Wife, the Bishop's Wife addresses human behavior and condition: true and false alliances, betrayal and loyalty, destruction and redemption.