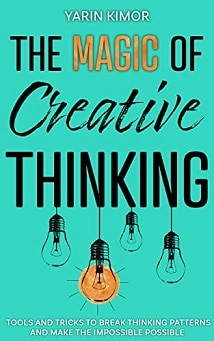 Author: Yarin Kimor
Language: English
Category: עסקים, עזרה עצמית והדרכה
The Magic Of Creative Thinking
How can we make the impossible possible?
For years and years in every possible framework we have been taught to think within the lines, but it's time for a wakeup call.
We must free ourselves from the fixed ways of thinking and encourage the creative potential with which we were born. You will learn how to initiate and lead processes, how to make breakthroughs, face your fear of change, swim against the current, dare, be open to adventure, and surprise your surroundings – but most importantly, yourself!
The book does so with depth and humor, at times it is serious and at others lighthearted, all while teaching realistic and practical tools.
Yarin Kimor is an author, director, and producer of award-winning documentary films and TV series. He is also an international lecturer on creative thinking development and has spoken for over 3000 companies and organizations, including IBM, Microsoft, Intel, HP, Bloomberg, various medicine and industry corporations, intelligence agencies, educational institutions, universities, and more.
In his book he offers a simple, scientifically-based method to develop systematic creativity. Between its pages you will find:
*A comprehensive overview of thought fixations we are all guilty of
*Specific techniques to overcome fixation and develop new, groundbreaking ideas
*Examples of the method's success in real life, for people and corporations
*Challenging and amusing exercises for implementing Yarin's method