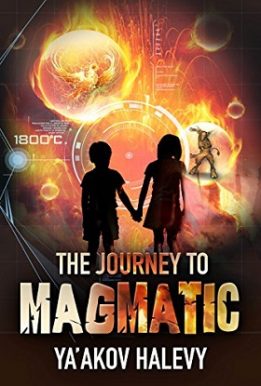 The Journey to Magmatic
An adventure beneath the earth's surface
An ancient legend tells of a long-gone continent called Magmatic, buried in a volcanic eruption due to human greed and environmental destruction. Tulip and her little brother Noonie heard the fable from their father, a scientist who anticipates earthquakes. They'll soon find out that the legend is real.
An adventure packed with thrills, humor and surprise
On a field-trip to an advanced scientific pod, Tulip and Noonie find themselves beneath the earth's surface. Deep underground, they slowly uncover the true source of earthquakes, and how the ancient legend is linked to the real environmental dangers facing the planet.
A fantastic voyage into the earth's belly
In their journey they encounter mythical animals, magnificent sights, great dangers and a world that blends imagination and reality. Together with their companions – a kind-hearted crustacean and a humanoid mindreading computer – they must learn to cooperate and rely on each other if they want to survive… and save the world.
Two children on a mission to save the planet
Will Tulip and Noonie overcome the dangers lurking in the Magma Sea, deep in the belly of the Earth? Will they escape the Monster Crab and the cruel mutants? How will they decipher the ancient prophecy and silence the deadly drill? And will their love for each other survive the voyage? A fantastic adventure about friendship, courage and environmental responsibility. You'll read it with bated breath.