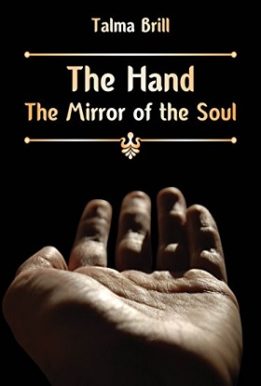 Author: Talma Brill
Language: English
Category: עסקים, עזרה עצמית והדרכה
The Hand – The Mirror of The Soul
The palms of our hands serve as a kind of detailed and fascinating roadmap that mirrors our consciousness. It tells the story of our deepest needs, our strengths, and hidden talents, as well as the places within us that need nurturing and support. In order to be properly read and deciphered, this map requires knowledge.
"The Hand: The Mirror of the Soul" provides the reader with this knowledge. This is a revolutionary book that offers a comprehensive, clear and readable survey of Chirology – the art of reading hands – along with enriching the knowledge of chirology with the values and validity of scientific research.
Most of the book (first and second parts) is a comprehensive, clear and readable survey of many aspects of the hand: the structure of the palm with all its details; the palm lines and their various appearances; the fingers and the story each of them has to tell (Even the rings a person wears have a story to tell!) and many more.
All this information is accompanied by illuminating examples and illustrations.
In these two parts, the book also answers fascinating, frequently asked questions, such as:
Is it necessary to read both hands? What is the difference between the right and left hands?
Do the hands change with time?
Is it possible to recognize significant events in a person's life by reading his hands?
-Is it possible, and not less, is it advisable, to "see" the future in the hands?
The third and fourth parts of the book are unique in the field of diagnostic and applied chirology.
The third part offers a list of mental traits and situations, which are manifested in the hands, each and every one of them, by a unique cluster of parameters. Those among the readers who practice therapeutic professions will find a special interest in some of them.
Learn how to recognize, for instance:
-How does humor express itself in the hands?
-What are the signs of high intelligence?
-How can we discover creativity in the hand?
And also:
-Signs of stress;
-Signs of depression, anxiety and suicidal tendencies and in the hand;
-Self-confidence;
-Intuition;
And much more.
Each person has a unique personality and no two hands are identical. This book allows the reader to see this uniqueness and appreciate it in every person, including you.
Give yourself the gift of knowing yourself and your loved ones, and gain a powerful tool for personal development.
The fourth part is even more innovative and groundbreaking. It includes three scientific types of research. Two of them have been conducted at a psychiatric hospital; the first has been published in the "Israel Journal of Psychiatry". The third one compared hands of people of the ultra-orthodox population in Israel to a control group. The statistical results presented in all three of the studies were highly conclusive. This is a breakthrough in the field of diagnostic hand reading, putting forward the possibility of using it as a complementary diagnostic tool, saving a lot of suffering.

-->