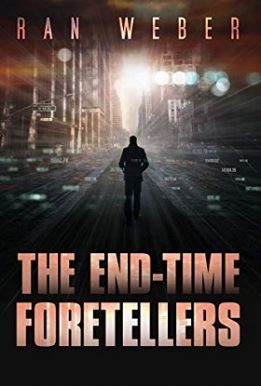 Author: Ran Weber
Language: INGLISH
Category: uncategorized
The End-Time Foreteller
Plucked out of early retirement, former Mossad Agent Yoav Sharf is after cyber-terrorists!
Former Mossad agent, Yoav Sharf, is a computer hacker who spends his days in a small gadget store in Tel Aviv. When Rami, his ex-IDF operator, recruits him for a final mission, he is left with no choice. Yoav finds himself trying to eliminate a digital terror organization seeking to establish a new world order by passing secret nuclear codes to Iran.
From arms dealers to spiritual mentors, he encounters a vast array of colorful characters.
His journey to locate organization members brings Yoav to meet hackers, arm dealers, and LA-based agencies in LA, San Diego, and Nevada. Benjamin, a warm and resolute American Jew, introduces him to a way of life he had never known, one that penetrates armor he had built his whole life.
Incredible adventure and human angst carry the reader on a breathtaking journey.
Digital terror, end-of-days prophecies, and human nature combine to produce a fast paced, world-embracing, apocalyptic thriller. It takes the reader on a riveting journey that begins with listless despair and soars to the heights of burning will and endless hope. The countdown has already begun, with Yoav in a race against dark minds trying to erase Israel and ignite an end time's global war. Will Yoav succeed in stopping the organization that is trying to destroy Israel on its way to realizing its dark goals?