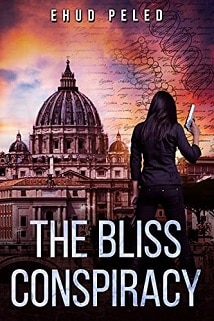 Author: Ehud Peled
Language: English
Category: מתח, מסתורין, פשע
The Bliss Conspiracy
They hold the Key to eternal happiness. It might just cost them their lives.
When an unconscious woman appears on the doorstep of his isolated woodland cabin, Amen doesn't know what to address first: her striking good looks, the smoking gun in her hand, or her unbelievable story of greed, betrayal, and murder – with its epicenter rooted in a secret messianic council led by the Vatican.
An international group of scientists make a discovery that has the potential to intervene with the human genome and change everything mankind knows about itself. A finding so radical, its very existence can shed light on the cornerstone of humanity's existence – or topple the world order forever.
And it's already out.
Alongside a senior detective, an ambitious cardinal, and a resourceful academic, Amen and Osnat are caught in the middle of a conspiracy that connects the three major monotheistic religions – with a cataclysmic conclusion in the heart of Jerusalem, the holiest city in the world.
An international thriller questioning the nature of human evolution, The Bliss Conspiracy sweeps both its heroes and readers between matters of science and religion, murder, mysteries, and absolution.