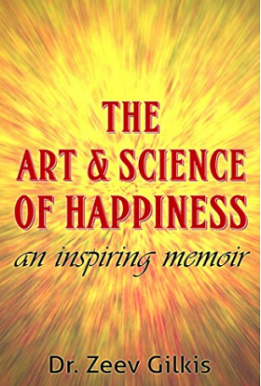 Author: Dr. Zeev Gilkis
Language: English
Category: עסקים, עזרה עצמית והדרכה
The Art & Science of Happiness
Dr. Zeev Gilkis has been through so many transformations in his life that he is a virtuoso of the art of change. In this inspiring memoir of a former senior officer in the mythological Unit 8200 (special intelligence unit) in the Israeli Army, read how Dr. Gilkis started out as a mathematician and then went on to lead a state-of-the-art (secret!) project that nobody believed would work. When the system was successfully deployed on the Golan Heights, he won the highest award of National Security from the President of Israel. He served three years as a diplomat in Warsaw, being the first military attaché of Israel in the Eastern Europe. After leaving the army, in the rank of colonel, he managed R&D in a large public company. From there he morphed into a successful investment manager, sat on the boards of numerous telecom and technology start-ups in the "Start-up Nation," and then on to leading five new start-ups in biotechnology and medicine.
In addition to all these activities, he transformed himself in the realm of exercise and health!
Dr. Gilkis went from being a "couch potato" geek, whose only workouts were playing chess and bridge, to becoming a surfer and triathlete, who competed in a triathlon, for the first time, at the age of 66! Not only that; after defeating an advanced stage cancer he became a healthy, HAPPY person.
How did he succeed in doing all that? And how can you get some of it!?!
How was he able to accomplish all of this? Was it the Eastern meditation he practiced for almost 40 years alongside his successful career? Was it his chess-player's cunning or mathematician's logic? What does Dr. Gilkis know about finding satisfaction and happiness that you don't? Let him share everything with you on the pages of this book with the perfect mixture of anecdotes, popular science, and true wisdom to help you unlock new paths to happiness. Rise above the slump and experience life as you should — with a smile. Come, read and discover his secret…