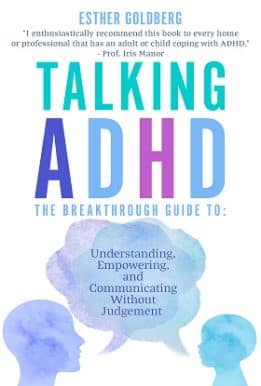 Author: Esther Goldberg
Language: English
Category: עסקים, עזרה עצמית והדרכה
Talking ADHD – The Breakthrough Guide To Understanding, Empowering, and Communicating Without Judgement
A clinical psychologist offers a groundbreaking, scientifically backed guide for parents of children with ADHD.
Parenting a child diagnosed with ADHD is a unique challenge. Thrust into the role of parent-therapist, most experience the extreme frustration of not knowing quite how to communicate with their children. They can't fully understand. They can't speak the exclusive language of ADHD.
Talking ADHD throws a lifeline to millions of parents, caregivers, and therapists. It helps them navigate a prevalent and defining, yet often misunderstood, phenomena of the modern age.
Esther Goldberg, an expert clinical and educational psychologist with over 40 years of experience, has developed a highly acclaimed therapeutic approach. Down-to-earth, holistic, and practical, this comprehensive guidebook will enable therapists and parents to adapt their communications skills to the specific needs of those coping with ADHD.
Among other things, learn how to:
Employ mindful, non-judgmental communication

Be more accepting and inclusive

Speak in clear and precise language

And most of all – understand and help them be understood.
Follow and discover how to reach your child the way they need you to. This unique, one-of-a-kind language prompts children and adults alike to better understand, explain, and express themselves. As you learn their language, you will watch your kids improve their life skills, strengthen their relationships, gain a boost in self-confidence, and most importantly: believe in themselves.