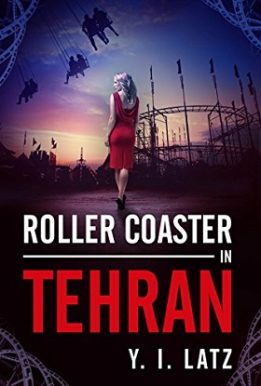 Author: Y. I. Latz
Language: English
Category: מתח, מסתורין, פשע
Roller Coaster in Tehran
Even those who turn lying into a profession are not willing to lie when it comes to love
Dr. Amalia Tavori an expert on roller coasters, and mother of three, has always known that the "small life" – a nine to five job, raising children, maintaining a home – was not for her. She hasn't forgotten her younger days, when she went nuts for boys, did crazy stunts, laughed in the face of danger and dreamed of a glamorous life in which she'd travel the globe.
None of this came to be in her adult life but she still held hope that her time would come. It arrived totally unexpectedly when, her husband of 25 years, an attorney, told her that he they were completely broke and deeply in debt – soon they and their 3 children would have nowhere to live. Amalia concluded that the only way to fix this financial disaster was to reconsider an old offer made her by the Israel's Mossad to work as a spy in enemy territory.
In an instant, her life went from being ordinary to extraordinary; she turned into a woman of the world – traveling the globe with an unlimited expense account. Her new life introduced new experiences; she fell in love with a considerably younger, married man while helping to save his child, all this in enemy territory. She argued with her children and was forced to face death within her family.
Roller Coaster in Tehran newly defines faithfulness, betrayal, enemy and compassion while portraying a woman whose ordinary life was transformed into an extraordinary one. Dr. Amalia Tavori is willing to die for her country but not for a life without love.