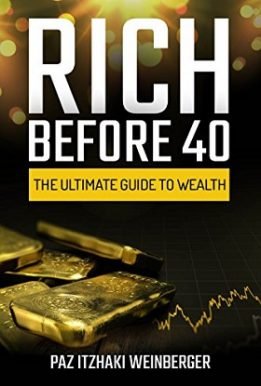 Rich Before 40: The Ultimate Guide to Wealth
Do you want to be rich before the age of 40?
This is the ultimate guide book for financial success, to live well and get rich by the age of 40. It shows that with perseverance and dedication to your goal and to a number of basic general rules it is possible to elevate your life to the right path and achieve abundance, even if the starting point was not at all easy… to soar from the depths to the heights.
The wildly successful author of this book will show you the way!
Paz's philosophy of life and its clear correlation to business is reflected in chapter headings such as: "Insurance and Securities – Critical Tools for Becoming Wealthy," "Success in the Image of Haters and the Envious," "Accepting Death as a Part of Life," "Other People and Why Only They Can Make You Rich," "Essential Tools for Building a Personal Image of Success," "Making a Living on the Path to Wealth," "Social Skills, Networking, Connections, and Rubbing Shoulders with the Elite," "The Cost of Unnecessary Emotions," "Gambling, Careless Spending, and Stupidity," "Law and Accounting – Friends or Foes on the Way to Wealth?" and "The 19 Commandments – Closure."

-->