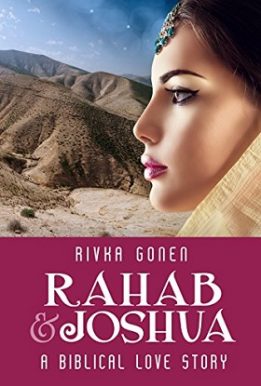 Rahab and Joshua
An ancient riddle waiting to be solved
The story of Rahab, the harlot of Jericho, and the Israelite spies she hid in her home is well-known to readers of the Bible. Nevertheless, readers are left not knowing who Rahab really was and why did she betray her own people.
Rahab, the harlot of Jericho: A tale of survival, courage, and love
Rahab and Joshua – A Love Story
follows the story of Rahab, who was raped when she was a young girl and had to spend her life as a concubine and a prostitute. Growing up among a clan of Hebrew shepherds near Jericho she had always felt a connection to her religious heritage. A dramatic encounter with Joshua and Caleb, two of the twelve spies sent by Moses to Canaan, challenges this special bond. Will this primordial cord help create an allegiance between Rahab and her clan of shepherds and their fellow Israelites?
A dangerous promise and an epic love story
When Rahab and her father, on a pilgrimage to their ancestral tomb of Abraham at the Cave of Machpela in Hebron, meet Joshua and Caleb, the old Hebrew bond rekindles. Rahab's father makes a promise that will jeopardize the safety of his entire family. Against all odds, Joshua and Rahab fall in love during the encounter in the cave. In the face of the risks of hiding in Jericho and during the bloody conquest of the city, will the promise be kept? Will their love endure? In Rahab and Joshua – A Love Story, the Biblical story comes to life in a beautifully written and lucid prose.