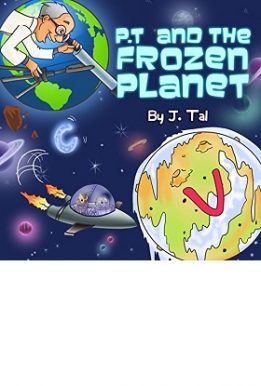 Author: J. Tal
Language: English
Category: ילדים ונוער
P.T. and the frozen planet
An original story that helps your kids acquire healthy eating habits.
Periscopulous Telescopulous, a famous space researcher, learns the fascinating story of planet Vee, which was frozen solid years ago after its kid inhabitants ate too much and turned from happy vital children to heavy, round and frozen creatures.
Looking through his telescope and reading in his science books, PT learns how the kids of planet Vee were saved by the brilliant Doctor Star and his "Healthy Mind in a Healthy Body" program, followed by the second stage "Five Meal Plan for Healthy Kids" project. Perhaps, Thinks P.T., the kids of planet earth can also enjoy Dr. Star's healthy food program and stay healthy and vital?
A Fun and easy way to motivate kids to healthy eating!
P.T. and the Frozen Planet is a fun read that teaches kids what to eat in order to lose weight easily and gain positive eating habits that will linger for the rest of their lives. It explains the relation between food, weight, health and vitality and offers vital information about healthy eating and the importance of exercise to a health lifestyle. Also included are detailed food suggestions for the recommended "Five Meal Plan for Healthy Kids".
Health and nutrition values for Children and teens.
P.T. and the Frozen Planet is a must read for kids dealing with overweight or body-image issues and for children and teens looking to learn healthy and sustainable eating habits.