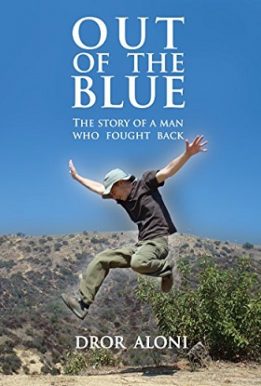 Author: Dror Aloni
Language: ENGLISH
Category: ביוגרפיה, יהדות, שואה
Out of the Blue
Fall in love with the optimism of a dying man
One clear day, at the age of ten, Dror learns that cancer had spread all over his body. For over two decades, he fights the persistent disease, using cancer as a path to personal and spiritual growth. With complete openness, rare wisdom and unprecedented courage, Dror looks straight into the deepest human fears. Join an inspiring journey to the inevitable, a tale that relates to us all.
"I was going to die at age ten."
Out of the Blue describes Dror's experiences from the moment he learned about the dieses, through years of conventional and complementary treatments. It contains information on a variety of ways of coping with cancer, physically and emotionally, and about healthy living, learning through meditation and Qi Gong, and the delicate balance required to maintain a sense of normalcy in the midst of pain and uncertainty.
A rare and inspiring perspective on life.
Out of the Blue explores the complexity and simplicity of both life and death, revealing the beauty that is found in the search. It is a moving story about the struggle to survive, and a deep desire to live life to its fullest.
Out of the Blue
One clear day, at the age of ten, Dror learns that cancer had spread all over his body. For over two decades, he fights the persistent disease, using cancer as a path to personal and spiritual growth. With complete openness, rare wisdom and unprecedented courage, Dror looks straight into the deepest human fears. Join an inspiring journey to the inevitable, a tale that relates to us all.

URL: https://www.ebook-pro.com/book/out-of-the-blue/

-->