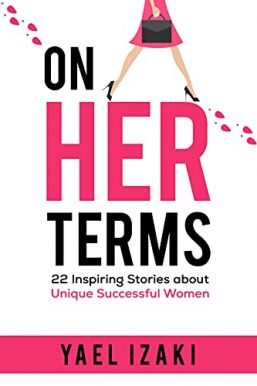 Author: Yael Izaki
Language: English
Category: עסקים, עזרה עצמית והדרכה
On Her Terms
"Success, to me, means being in the place that's right for me, completely and with all my might."
We live in a competitive and demanding society which requires great inner strength and confidence in order to eliminate the background noise and be true to ourselves. Many of us are not happy with our lives because we compare ourselves to others, but if we focus on what we really want to do and relate to our values without external points of reference, we can guarantee our enjoyment, satisfaction and happiness with work and life in general.
On Her Terms depicts the story of 22 women, each one different, and the unique path their lives followed until they reached the point of full self-realization.
The book presents many types of female success: women who realized a childhood dream; women who for many years worked voluntarily; women who started in a certain profession but dared to follow their hearts and change their occupation; women who went through difficult experiences in their youth and whose work constitutes the closing of a circle and recovery for them and for the women and girls whom they have helped.
Whether the journey was planned or the circumstances of life led to it—these women made brave decisions which led them to a place of wholeness and happiness.
Dr. Yael Izaki is a social psychologist and holds a PhD in management, founder and CEO of Netta – the Career Development Center, an NGO that provides career counseling for women, tools for self-development in the professional world and works towards fostering an organizational culture that promotes gender equality.