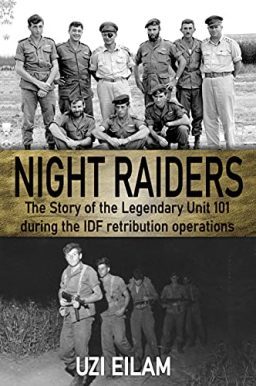 Author: Uzi Eilam
Language: English
Category: עסקים, עזרה עצמית והדרכה
Night Raiders
Lietuenant General Gadi Eizenkot, former 21st IDF Chief of Staff: "'Night Raiders' chronicles the background for the reprisal operations and lays out a profound analysis of their contribution to Israel's security. The book is of incredible historical value, but even more importantly – it is crucial for the present and future commanders of the IDF, who can use it to learn about the spirit, initiative, and expertise of the fighters and commanders of the past."
In the years following the establishment of the State of Israel in 1948, its Jewish citizens suffered from perpetual terror acts courtesy of their Arab neighbors, who infiltrated its borders with the purpose of destroying property and even taking lives.
At first, Israel employed a passive strategy, guarding its borders, observing its enemy, placing ambushes on their path, and holding political discussions about ceasefires. But the attacks did not cease, on the contrary, they multiplied, and the IDF was forced to take an active approach.
This is the fascinating story of the fighters and commanders of Paratrooper Unit 101 of the 890th Battalion, and of 202nd Brigade. The heroic reprisal operations which they carried out over the border between 1953 and 1956 allowed the IDF to give Israel's citizens relative peace.
The fast-paced descriptions laid out in the book are reminiscent of a true thriller, and it is impossible to put down. It brings to life the unique operational tactics employed by the fighters who would later become legends, among them Ariel Sharon, commander of the 890th Battalion and 11th Prime Minister of Israel.
Uzi Eilam was among the first Israeli paratroopers and served as deputy to Meir Har-Tzion, one of the establishers of the special unit. Eilam was awarded the Medal of Courage for his bravery and resourcefulness during Operation Black Arrow, and in 2002 was awarded the Israel Defense Prize.