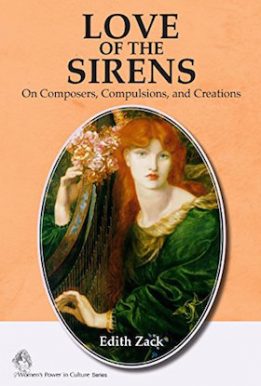 Author: Edith Zack
Language: English
Category: עסקים, עזרה עצמית והדרכה
Love of the Sirens
For centuries we heard nothing about women creators.
History has perpetuated male poets, writers, composers and painters, as well as conductors, philosophers, critics and historians who have documented the history of the world.
Women, on the other hand, were something of an adornment. They were considered to be the fairer, weaker, and inferior sex, an object to be written about, painted, and talked about. In the collective consciousness women were associated with salons and morning visits, needlepoint and flower arranging, as well as playing the piano.
Were women not intellectuals?
Did they not possess even a spark of talent?
Did they not create?
Did they not perceive their art as their vocation?
And if they did, how did they cope with the patriarchal society that sanctified only the works of men?
Love of the Sirens attempts to answer these questions through the stories of Hildegard von Bingen, Fanny Mendelssohn, Clara Schumann, Pauline Viardot, Florence Price, and fifteen other women composers. Over a period spanning 800 years, from the twelfth century to the present day, all of them created but were absented from the bookshelves of history and their voice was unheard.
Each chapter reveals the composer's life story against the backdrop of the period in which she lived, the home she grew up in, her personal relationships, her loves and disillusionments, and her daily struggle along the road to recognition as an independent professional.