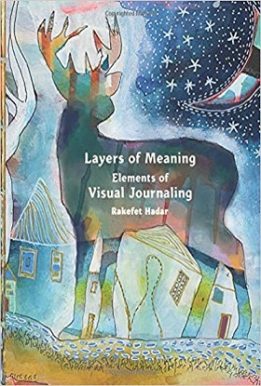 Author: Rakefet Hadar
Language: English
Category: עסקים, עזרה עצמית והדרכה
Layers of Meaning
The visual journal is a simple handbound notebook in which to create, using mixed media language techniques, works that serve as an expression of the soul and create a path to healing, internal freedom and the sparkling of passion.
"Visual journey journaling" is an innovating artistic language made up of seven elements: Intention, Magical coincidence, Background, Images ,lines, Color, and Text. Visual Journey journaling (VJJ) invites you to a fascinating world where you will reconnect with the inner artist hidden in each and every one of us, and allow you to create Soul Pages using simple techniques and subtle guidelines to take a look inside yourself.
In the 1st chapter of the book you will learn how to master these 7 elements in your journal. There are many fun exercises and a step by step tutorial of how to saw a simpe journal.
In the 2nd chapter you will learn how to make a "soul page" in a step by step process with the 7 elements.
The 3rd and last part of the book is an opportunity to see Rakefet Hadar private art journal pages in full size and read her stories behind them.