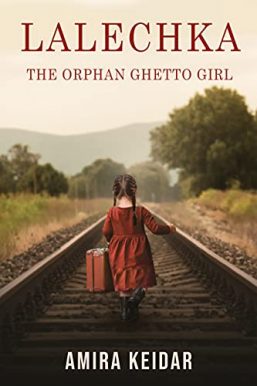 Author: Amira Keidar
Language: English
Category: ביוגרפיה, יהדות, שואה
Lalechka, The Orphan Ghetto Girl
A non-stop bestseller for over 2 years since its publication, Lalechka is a moving tribute to courage, strength, and a mother's love in the darkest of times, based on a true story.
A little girl is smuggled out of a Ghetto. Two courageous women. And an inspirational story of survival.
In 1941, the height of World War II, in a Polish ghetto a baby girl named Rachel was born. Her parents, Jacob and Zippa, were willing to do anything to keep her alive. They nicknamed her Lalechka.
Just before Lalechka's first birthday, the Nazis began to systematically murder everyone in the ghetto. Her father, understood that staying in the ghetto would mean certain death for his child.In a desperate but hope-filled move, Lalechka's parents decided to save their daughter, no matter at what cost.
Jacob smuggled them outside the boundaries of the ghetto where Zippa's Polish friends, Irena and Sophia, were waiting. She entrusted her beloved Lalechka to them and returned to the ghetto to remain with her husband and parents – unaware of the fate that awaited her.
Irena and Sophia took on the burden of caring for Lalechka during the war, pretending that she was part of their family despite the grave danger of being discovered and executed.
Lalechka is based on the unique journal written by the young mother during the annihilation of the ghetto, as well as on interviews with key figures in the story, rare documents, and authentic letters.