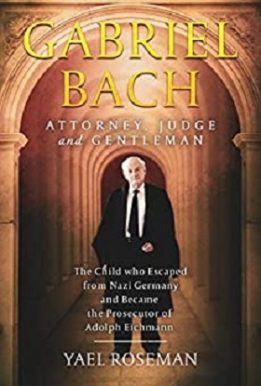 Author: Gabriel Bach
Language: English
Category: ביוגרפיה, יהדות, שואה
Judge and Gentleman
A Jewish boy physically kicked out of Germany later to become a prosecutor of Adolph Eichmann – the main designer and executioner of the Nazi "Final Solution".
November 1938, Germany. The Bach Family is on the train – leaving Nazi Germany at the very last moment – two weeks before the notorious "Crystal Night" ('Kristallnacht') – which marks the beginning of the first step in the Nazi extermination plan- the massive arrest of Jewish men in Germany. The train is heading towards Holland as a stopover on the family's way to the Land of Israel (then "Palestine"). Once reaching the border, they hear an SS officer shouting their name: "Where is the Bach family? Get off the train now, with your luggage!" All their belongings are scattered on the ground for the search. The train is about to leave…Finally the order comes: "Okay, take your luggage and get out of here!"
Gabriel Bach – a skinny eleven-year-old boy, finds himself standing on the platform with a heavy suitcase. Suddenly, an SS officer appears behind Gabriel and gives him a strong kick, which lifts him and his suitcase from the platform back onto the train. "I will never forget" says Gabriel Bach in his stunning memoir, "the fact that I was literally kicked out of Germany by the Nazis."
22 years later, in 1960, that boy, now Deputy State Attorney in Israel Gabriel Bach is appointed as the person in charge of the investigation of Adolph Eichmann, the main designer and executioner of the Nazi "Final Solution". Then, In April 1961 he becomes one of the three prosecuting attorneys, representing the State of Israel in one of the most talked about court cases in history, The Eichmann trial, which continues to this day to arouse a lot of interest all over the world.
Since then Gabriel Bach held over the years various high positions in the legal system in Israel. As the State Attorney of Israel and, later on, as Justice of the Supreme Court, he was at the center of many other fascinating public, social and political affairs that stirred up the country, which are described in this biography, enabling the reader to understand central issues that Israeli society has dealt with during its first 50 years.
Yet, of all the chapters in his long career, he regards the privilege he has had to speak in court on behalf of the 6 million Jews who were murdered by the Nazis as the event that has had the most profound impact on him professionally and personally. Over the years he has travelled to many countries to speak in front of various audiences, particularly in Germany, about the Eichmann trial and about genocide and crimes against humanity, guided by a sense of mission to raise consciousness to the Holocaust and its implications.