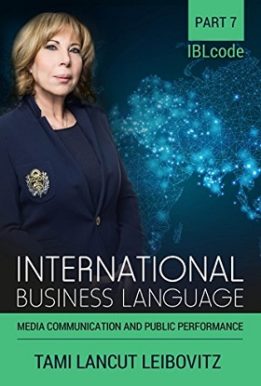 INTERNATIONAL BUSINESS – Media Communication and Public Performance
Brand a personal image across the globe
International Business Language (IBL) Code is a premier guide for executives, businesspeople, politicians, celebrities, diplomats, and more seeking to brand a personal image across the globe.Let yourself be understood and appreciated with the help of the IBL Code.
Tami Lancut Leibovitz assists you in your effort to get to know the cultural traditions of foreign countries, you can systematically learn the International Business Language Code of success by using the complete IBL Code series:
Part 1 – The Basic Concepts of Multicultural World
Part 2 – The Wisdom of Networking
Part 3 – Verbal & Non-Verbal Business Communication
Part 4 – The International Business Dress Code
Part 5 – Formal & Informal Hosting Skills
Part 6 – Protocol, Etiquette and Business Culture
Part 7 – Media Communication and Public Performance
Part 8 – Practical Guide to Local Business Culture Per Country
Part 7 – Media Communication and Public Performance
The international business community knows how valuable a performance in the media is. A positive coverage may strengthen your actions, grant you with professional recognition and appraisal, and by that assist you to reach the business goals you set-up for yourself. The new international business code is not indifferent to the great potential various media means have. You must be aware that you are your own brand and be familiar with all the rules of conduct while facing different media means. When they are around – you need to be at your best always.
This is a must-have book for entrepreneurs, investors, executives, and fundraisers, as well as politicians, diplomats, celebrities, and anyone who wants to understand the inner workings of foreign countries.
Tami Lancut Leibovitz founded the International Institute for Image, Communication, and Etiquette in Business, Society, and Politics. As an advisor to public figures, senior executives, and diplomats, with thirty years of experience, Tami's books have become mandatory reading for people in business, media, and the public arena. IBL Code is a product of life-long, international expertise in the management of personal image branding.