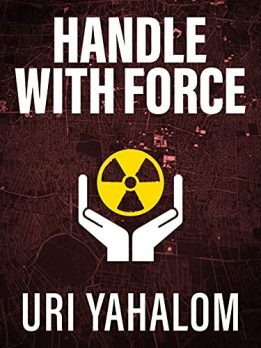 Author: Uri Yahalom
Language: English
Category: מתח, מסתורין, פשע
Handle With Force
You have one second to decide: destroy Iran's nuclear weapon, or stay alive. What would you do?
A Mossad agent lands in Europe, fatally wounded, following a covert operation to smuggle the details of Iran's nuclear program out of the country on a USB device. At the last minute, in a desperate attempt to safeguard the information, he hides the device on successful international model Roni Carmi, unbeknownst to her.
Meanwhile, the life of Amit Koren, special forces veteran and security expert, is falling apart. But just when it seems that the worst is behind him, he is drawn into a dangerous assignment – to get to Roni and protect her at all cost, even at the risk of his own life.
As intelligence agencies all over the world hold secret but deadly battles around them, some trying to help Amit and Roni and others trying to eliminate them, Amit is faced with the most dangerous challenge of his life. Will he be enough to protect Roni and bring the small but crucial device safely back to his homeland?
Handle With Force is a surprising and refreshing espionage thriller, which doesn't stop for a second. Uri Yahalom expertly and confidently guides the storyline forward and invites the reader into a dark world – a modern world with cyber and powerful politics at its forefront, which is nonetheless resolved on the battlefield, through raw confrontation and human behavior ruled by the most primitive of urges – love, hate, attraction, and jealousy.