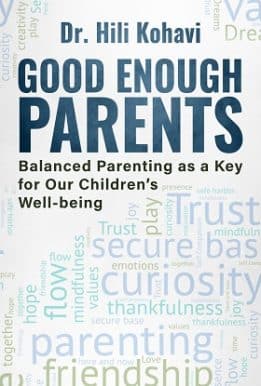 Author: Dr. Hili Kohavi
Language: English
Category: עסקים, עזרה עצמית והדרכה
Good Enough Parents: Balanced Parenting as a Key for Our Children's Well-being
Parenting is a lifelong mission, and although there is no such thing as "Perfect Parents" – we can certainly be Good Enough.
Based on classical and innovative psychological theories, recent research, and her own abundant experience, psychologist Dr. Hili Kohavi shines a spotlight on two essential aspects of parenthood: the crucial role parents play in building their child's personality, and the subject of balance and joy in a parent's life.
This uniquely progressive book will give parents of children of all ages theoretical knowledge and practical tools, covering everything from how to raise children to believe in themselves and their abilities, through how to establish healthy communication with children and teens, to what you can do to prevent child-raising from taking over your romantic relationship, and more. It also addresses unique circumstances such as divorce, "New Families", and parenting children with special needs.
Most importantly, it affirms the notion that parents don't have to be perfect – because there is simply no such thing as perfect parenting. We are all humans and that's exactly what our children need us to be. The key to raising happy, confident, communicative people doesn't lie in getting everything right, but in knowing how and when to trust our parental instincts, enjoy our role as parents, and establish a win-win relationship with our children and teens.