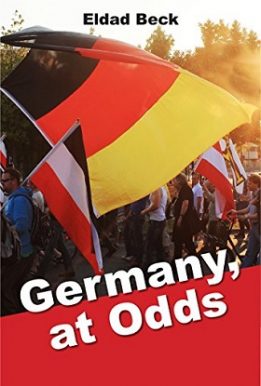 Author: Eldad Beck
Language: ENGLISH
Category: עסקים, עזרה עצמית והדרכה
Germany, at Odds
An invitation to see Germany differently
Torn between two very different visions of Germany, Eldad Beck arrived in Berlin in 2002, as correspondent for the Israel´s top daily, "Yediot Ahronot" and became the "eyes and ears" for many Israelis, following Germany as it entered a new period in its modern history.
"Germany, at Odds" tells through his personal and professional experiences the story of this pivotal period in Germany.
The book questions many assumptions about "the new Germany":
Is there really one Germany, or such a thing as "a German mentality"?
Is Germany a strong and stable democracy in the heart of Europe?
Have "the Germans" really confronted their past?
What stands behind the "German moral and historical responsibility toward Israel"?
"Germany, at Odds" is a journey throughout this land at the beginning of the 21st century as well as the story of a joint visit to Auschwitz-Birkenauwith the grandson of Rudolf Höß, founder and commander of this murder factory; encounters with the known writers and politicians, such as Chancellor Angela Merkel.
˃˃˃ The family background
Eldad Beck was born in Haifa on May 1965, eight days before the historical establishment of diplomatic relations between West Germany and the State of Israel.
Haifa, was known at the time as "the little Germany on the Mediterranean" due to the large numbers of German-speaking Jews, who had settled there from the beginning of the 20th century and on.
Beck's mother's family, which came to the Land of Israel from Eastern Europe in the mid-19th century, opened the first music stores in the Holy Land. Therefore it entertained excellent business and personal contacts with Germans, both prior to and after World War II. At his home, Germany stood for high culture.
Several years after the fall of the Berlin Wall, Beck discovered through an unexpected letter another connection with Germany. An unknown cousin of Beck's father, whose family originated from Austria, who had survived WWII and the Holocaust with his parents and sister in Germany, appeared, telling the first time with pictures and documents the story of a family, which was largely murdered by the Nazis.
˃˃˃ Based on a personal and professional experience
"Germany, at Odds" is based on his personal and professional experience in his many years in Germany. It presents Germany and the processes it is going through today, as seen and understood by Beck, based on the many events he had reported on and countless interviews he had conducted.