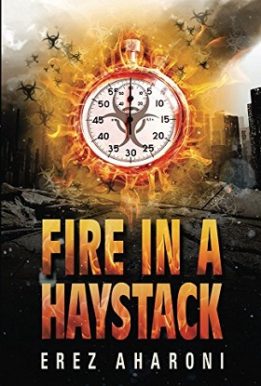 Author: Erez Aharoni
Language: English
Category: מתח, מסתורין, פשע
Fire in a Haystack
What would you do if you discovered that a lethal virus is incubating in your body and would kill you within a week?
Unless an antidote is somehow found. 
Ofer Angel's life has never been simple. When he was a teenager – his father committed suicide after being rumored to be involved in shady business deals. When he became a man – he had to deal with difficulties at home, but thanks to his determination, he managed to finish law school and was admitted as an intern at a renowned law firm.
Ofer is sent to spend the night with an expert witness for the firm's most important case. The following morning, he finds the witness dead in his hotel room, a flask from which they had both drunk whiskey on the previous night by his side, infected with the smallpox virus, supposedly eradicated from the world.
Before long, Ofer discovers that a certain unknown element is interested in framing him, perhaps even in bringing about his death. But even if that mysterious element is unsuccessful – the virus now incubating in Ofer's body would eventually kill him anyway within the week, unless an antidote is somehow found.
Will Ofer manage to solve the secrets of his past?
Will he discover who tried to kill him and why?
Is there enough time to find an antidote?
˃˃˃ A fast-paced novelFire in a Haystack is a fast-paced novel, witty, thought-provoking and chillingly contemporary.
Another breathtaking thriller by the author of the critically acclaimed Half a Mustache (2006) and The Eagle's Secret (2009).
Erez Aharoni is a lawyer and veteran Israeli air force pilot