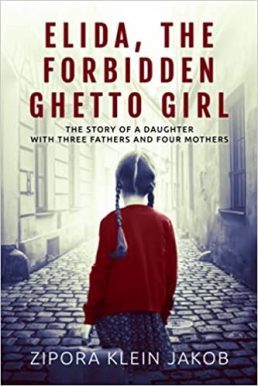 Elida, The Forbidden Ghetto Girl
The unforgettable story of a forbidden girl born in Kovno Ghetto, despite the Nazi prohibition on Jewish women giving birth, and the risk of death her parents faced by defying the law.
1943, Kovno Ghetto: despite fear of the threatening death sentence decreed by the Nazi's, Dr. Jonah Friedman, and his wife Tzila, decide to bring a daughter into the world, their firstborn, whom they name Elida, which in Hebrew means non-birth.
To ensure their child's chance of survival, when Elida was only three months old, her parents smuggled her out of the ghetto into the arms of a Lithuanian family who lived on a farm.
When the Nazis eradicated the entire Kovno Ghetto, Jonah and Tzila are among those killed. Their only daughter was left orphaned and alone, dependent on the kindness of strangers.
The story of the forbidden girl's life is gripping and hard to believe. She changes families, countries, and continents, and even her name, more than once. In her never-ending pursuit of love, Elida attempts to rebuild her identity and relinquish her miserable fate.
This is the moving story of Elida, the Forbidden Ghetto Girl, and her many vicissitudes of fate.