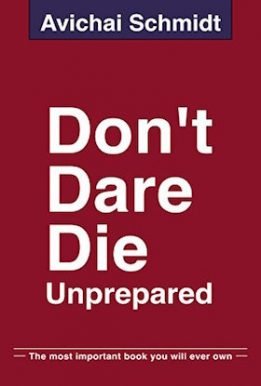 Author: Avichai Schmidt
Language: English
Category: עסקים, עזרה עצמית והדרכה
Don't Dare Die Unprepared
A practical guide to plan and organize your life
People prepare for every stage of life in the most precise way – from kindergarten until the birth of their children. But for the most critical stage of life, namely the end, we tend not to prepare.
The book explains how to put everything you have in order and how to leave things behind for when the time comes.
With this book you will:
Save money, time, unnecessary expense, hassle and grief.
Organize your personal and financial information.
Get simple forms to fill out and help you organize your life.
˃˃˃ The most important book you will ever own
The book touches all life's aspects and helps organize everything for now and after death, out of concern for the financial future and welfare of those left behind.
The book was written for each one of the billions of people living in today's modern world. It is a guide for organizing personal and financial information.
The book explains the differences between insurance policies, savings plans, pension funds, types of securities, wills and estates, inheritance and their actual meaning.
The book suggests a diversity of issues for different populations, and clarifies life issues such as funeral, burial, mourning customs and planning options for commemoration and memorial.
The book is very detailed, laid out by topics, and tips and offers answers to almost every present and future problem. It includes approximately 100 simple forms to fill out that will help you organize your life.
Not everybody needs every detail in the book, but everyone needs emphasis in one direction or another.
˃˃˃ An important gift you should give yourself and to those dear to you
By properly conducting yourself today, you will ensure your future as well the future of your loved ones; you will save time, unnecessary expense, hassle and grief; and you will attain peace of mind for the rest of your life.

-->