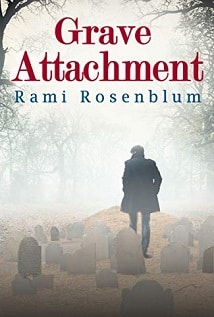 Grave attachment
When Yossi loses his life in his early thirties, he is not yet ready to move on. But he soon discovers that the ancient Jewish faith of resurrection is not far off, and he is inaugurated as the newest member of the thriving community of the dead. Incapable of leaving the boundaries of his graveyard, he is able to hear the thoughts of those around him, including his wife Esther, the love of his life whom he has left behind in the world of the living.
But being tethered to his gravestone, waiting idly for the moment of his final resurrection, is not enough for Yossi. Determined to let Esther know he is there and unwilling to give her up, Yossi enlists the help of a mediator and slowly extends his reach further and further into the living world, resolved to entwine his own fate with that of his love.
But little by little, Yossi begins to understand the complications of such a feat. How can he choose between his own happiness and that of his wife? Should he do everything to push himself back into her life or simply accept his death? And does he perhaps have a higher calling?