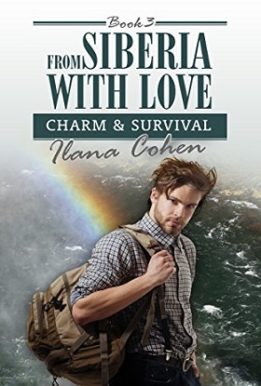 Author: Ilana Cohen
Language: English
Category: רומנים, ספרות נשים
Charm & Survival: From Siberia with Love Book 3
Steaming hot lovers are reunited by tragedy . . .
Edith can't capture Alex, the wildly attractive ladies' man who she believes to be her destiny. On his way to a romantic rendez-vous with another woman, Alex suffers a terrible car crash. The tragic event returns him to Edith. After a long stay in the hospital, bandaged and injured, Alex is now a broken vessel, his beautiful face cracked with ugly scars.
Edith's reward for undying love that does not judge: five-star sex!
Edith welcomes her lover back. In her arms Alex becomes himself once more and graces his beloved with the professional, five-star sex that Edith has come to know and love.
Tantalizing sex with tales of mind-boggling adventure from the wilds of Siberia
Alex also regales Edith with countless stories of his wild and daring exploits in the wilderness of Siberia. His audacious personality and bold curiosity led him to experience unbridled sex and adventure in the untamed forests, mines, and villages of that huge Soviet wasteland. Join Edith as she is transported to Siberia by Alex's descriptions and then return to their steamy love-nest in Israel.