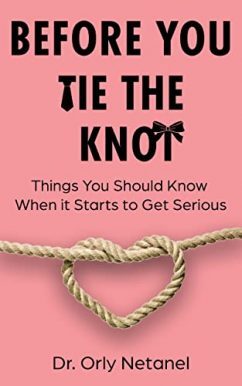 Author: Orly Netanel
Language: English
Category: עסקים, עזרה עצמית והדרכה
Before You Tie The Knot
A guide that will help you avoid critical and common mistakes in your relationship.
You've found the one, the love of your life, and committed to a lifetime side by side. But before you can have and hold in sickness and in health, there are some important things to think about.
The secret to a solid foundation and a healthy relationship is to approach it in an ordered, calculated way – together. Successful, long-lasting couples have a deep understanding of one another, of their strengths and weaknesses, and most importantly, they communicate.
This book is a guide to approaching a serious relationship. It will teach all you should know and the things you should think and talk about before you enter the most important commitment of your life. It also presents a collection of "mistakes" that can be avoided to maintain a good relationship.
Follow these steps and advice to achieve a strong, healthy relationship with your partner and to build a solid foundation for everything that will come later – from careers and relocations to children and your own self-fulfillment, every challenge can be overcome with the right preparation.