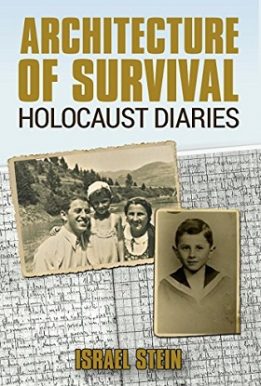 Author: Israel Stein
Language: English
Category: ביוגרפיה, יהדות, שואה
Architecture of Survival
In 1939, when the Second World War broke out, the Stein family escaped Poland. Paula, a polyglot architect, and Meir, a textile industrialist, fled with their only child, Israel, to Vilnius, Lithuania, and later to Bialystok, attempting to save themselves from certain death in the extermination camps.
In the midst of terror, there they found grace
In August 1943, the Bialystok Ghetto was emptied by the Nazis and all its occupants were sent to extermination. The Steins had managed to remain hidden in the Ghetto for five more weeks, before escaping to their new hideout—the home of a Polish family, backed by a German official, that gave them refuge. They remained hidden there for nearly a year, until the war ended, with the daily danger of being discovered and sent to death. They lived to see Bialystok liberated by the Russian Red Army, and eventually settled in the new state of Israel.
The events of the Holocaust as they were seen through the eyes of a real middle-class Polish Jewish family
Architecture of Survival brings forward the diaries Paula and Meir Stein wrote while in hideout during the Second World War, accompanied by the vivid visual memories of their son, Israel Stein, who witnessed the horrors as a child. It is a rare historical documentation, read in bated breath.

-->