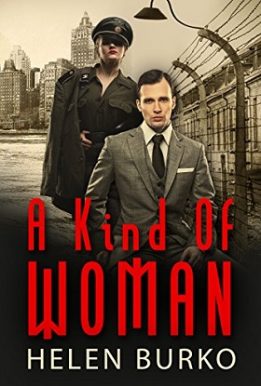 Author: Helen Burko
Language: ENGLISH
Category: ביוגרפיה, יהדות, שואה
A Kind of Woman
He is married to the Devil, but can he be her advocate?
Jacob Barder, a successful New York attorney, returns home to New York after being trapped in Europe during the Second World War and miraculously surviving the Holocaust. Barder does not return alone: with him is his new wife, Rachel, a beautiful blonde woman whom he met in Warsaw shortly after the war – a Jewish survivor who lost her entire family and remained alone in the world. Jacob fell in love with her and brought her to the states. Now he will defend her in the biggest battle of her life.
A Jewish lawyer's wife is accused of committing Nazi war crimes
One evening, in a Broadway theater, Rachel is attacked by a woman who accuses her of being Matilda Krause – a German SS officer who served at the Nazi concentration camps. Rachel's arrest and police investigation open the way to a sensational trial that will be written in the pages of history. With no one willing to protect a Nazi officer, Barder decides to defend his wife himself. Why would a Jewish survivor speak for a Nazi in the court of law? Barder is called to make an impossible case in the name of his beloved wife, and that of humanity altogether. The jury, the judge, and the readers will be astounded by what he has to say.